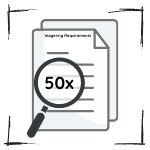 Many of the best Canadian online casinos offer a range of different bonuses. Often, these come in the form of welcome bonuses, available to new players only.
However, some casinos also offer other bonuses to existing customers. While the terms and conditions of different bonuses vary enormously, they all have one thing in common: wagering requirements.
Wagering requirements are a distinct set of rules governing the withdrawal of funds awarded through bonuses. Many casinos provide new players with bonus funds as soon as they register. Sometimes the casino won't even require the player to deposit any real money in order to activate the bonuses. It might initially look like free money, but there might be a catch. That's where the wagering requirements come in.
As with any business, online casinos are run for profit. They won't allow new customers or existing players to simply withdraw the bonus funds that they've been provided with. In order to avoid this, casinos tend to require players to wager their bonus funds a certain number of times before the funds can be withdrawn to a player's bank account.
There are many different ways in which gambling sites manage these rules. The hoops that players must jump through before withdrawing bonus funds vary quite a bit from site to site.
Let's take a closer look at how the requirements work, and what you need to know before you claim any bonus funds.
---
Wagering requirements: how do they work?
A wagering requirement is an amount that must be bet in order to move bonus funds into the main balance of your account. Once funds enter your main balance, you're free to withdraw them whenever you wish.
Wagering requirements apply to almost all casino bonuses. Some casinos require players to bet their bonus funds once and then win them back in order to release them. Others require players to bet them several times before they can be withdrawn.
The exact number of times that funds must be bet depends on the bonus. For instance, no deposit bonuses tend to have higher wagering requirements than matched bonuses. Make sure you read the terms and conditions of any bonus before accepting it, paying particular attention to the requirements listed.
Wagering requirements may seem complicated at first, but they're easy to understand once you know what to look for. Let's take a look at an example to see how they work.
Let's say you accept a bonus of $50 with a wagering requirement of 50x. This means that you'll need a minimum of $2,500 before being able to move your bonus funds into your main casino account. You'll usually need to spend a significant amount before you benefit from the bonus funds.
---
Does it matter which game I play?
It's worth noting that the rules concerning wagering requirements do vary according to the game you choose to play. The amount of money taken off of your total wagering requirement usually varies depending on your chosen game.
For example, a casino might take $10 from your total wagering requirement every time you spend $10 on a video slot machine, but they might not do the same if you spend that $10 on a game like roulette.
In many cases, casinos will take a percentage of the wagering requirement off for the total amount that you spend playing roulette. So, a casino might only offer a 20% reduction if you spend your bonus funds playing roulette. Taking just $2 off of the total, for every $10 that you bet on online roulette games.
The rules around game choice vary from casino to casino but should be clearly outlined in the terms and conditions of all bonuses. Casino Frog recommends that you read them to double-check the rules concerning your favourite games. That way, you can ensure that you get the best possible deal when you play online.
---
What else do I need to know about wagering requirements?
The rules and regulations surrounding wagering requirements differ between casinos, but the general principle is the same.
It's worth noting if the wagering requirement applies to just the bonus or the deposit you're making as well. Some casino sites will have lower wagering requirements but in turn add to the fine print that it applies to bonus offers and your deposit. This makes the bonus offer as a whole a bit less attractive than it first appeared to be. We recommend visiting casinos from our Casino Frog list to avoid any issues with this.