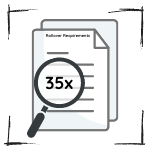 The best online casinos in the United States will offer you a variety of interesting bonuses when signing up. You'll find welcome bonuses, which can be claimed alongside your first deposit, as well as other bonus types.
Most American casinos will double your first deposit or give you a bit of free money to play with. After that, it's up to each casino to provide any additional bonuses. The terms and conditions will vary between the gambling sites, but they all come with a rollover or wagering requirement.
Rollover requirements essentially decide when you'll be able to withdraw any funds from the casino site. You might find that the bonus you claimed during your first deposit has to be wagered a number of times before being eligible for withdrawal. This is true in most cases, even if you didn't have to make a real money deposit to claim the bonus offer.
Why Rollover Requirements Exist
Gambling sites will offer players a generous bonus to encourage signing up and making a deposit. These bonuses can be quite lucrative, but like any business, they can't just give an infinite amount of money away. To prevent players from simply withdrawing the bonus funds they just acquired, a wagering requirement has to be set. If these terms weren't in place, the promotions could easily be abused.
So, what this means is that the casino player has to wager their bonus money before they can withdraw the funds and transfer them to their bank account. How strict these terms are will vary from one gambling site to another, and most importantly, the number of times will vary and matter a lot. Depending on how high the rollover requirement is, the bonus offered by the casino can be considered either generous or quite stingy.
---
How Do Wagering Requirements Work?
Wagering requirements, also known as a rollover requirement, are among the simpler terms and conditions that you'll encounter at any given serious gambling site. It's the amount you have to bet to transfer the bonus money from the casino to your main balance. This has to be done in order to withdraw the funds to your bank account.
You'll find this requirement at pretty much any casino and all of its bonuses, regardless of type. In some rare cases, you're only required to wager your bonus once (1x), meaning you just have to bet the bonus funds and win it back to make them withdrawable. Most of the time, however, you have to wager a few times at least.
Example:
If you get a free $50 money bonus and the rollover requirement is 50x (which by the way, is quite high), you would have to wager your bonus by playing until you have at least $2500 in your balance. Only then will you be able to move the funds into your main account balance.
Do All Games Count Toward the Rollover Requirement?
Another thing worth pointing out is that the rules may vary depending on the games you play at the casino. This means that depending on the games you choose to play, a different amount of money will count towards the rollover requirement.
Example:
If you spend $10 playing video slots, the rules may state that a full $10 counts toward the total rollover requirement. However, if you spend the same amount playing roulette, it might not count the full $10 but rather $2 for instance, meaning you would have to play significantly more to reach the same result.
The rules are often set at a certain percentage (%), such as when you play roulette in the example given above. The casino could state that playing roulette counts for 20% toward the total rollover requirement. In other words, for every $10 you spend at roulette games, only $2 is counted towards the total rollover requirement. Some games will not count at all, while some count for the full amount.
The rules will, as mentioned, vary from one gambling site to another. In all cases, however, the terms and conditions should be clear. The rules for your bonus should state how many times you need to wager the funds, and which games count toward the total requirement, along with how much they count for. Casino Frog recommends checking the terms for your favorite games to get the most out of your gameplay and bonus.
Additional Notes About Wagering Requirements
In some cases, the wagering requirement won't only apply to the bonus you're given but also your real money deposit. A gambling site might have lower wagering requirements, but instead, the terms state that the requirement applies to the bonus offer and the deposit you made. Not only will you have to wager the bonus, but your deposit as well, making the offer a bit less lucrative.
Visit casinos via the comparison lists found at Casinofrog.com to find the best and most fair wagering and rollover requirements.