The Pennsylvania online gambling scene is booming right now and on this page you'll get access to the best PA online gambling sites. Read on to learn more about gamblin in Pennsylvania; if it's legal, what's popular, how we rate gambling sites and more.
Our team has been working on a comparison list to put all the best PA online gambling sites in one place for convenience. Find it below and claim an exclusive bonus offer.
---
Top PA Online Gambling Sites – 2023
---
PA Online Gambling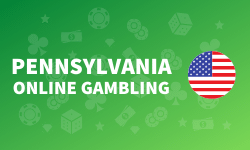 Online gambling in PA has finally become reality and nowadays the population of Pennsylvania has a broad selection of gambling products to choose from. This includes sports betting, online casino, poker and lottery games. The bill that made it all possible was passed by the PA Legislature back in 2017 but it wasn't until 2019 that the first casino sites came to life.
However, a signed gambling bill doesn't mean that anyone can take the liberty to start a site that is providing gambling services. There's a whole process one needs to undergo first and far from everyone receives a green light. It is the Pennsylvania Gaming Control Board (PGCB) that has the final say in the approval decision, and so far, PGCB has granted licenses to several operators.
For your convenience, every casino operator found on this page is licensed and regulated by the state of Pennsylvania. On top of that, they're also verified by our skilled staff to guarantee a secure gambling journey. A safe and sound experience is, of course, something we want to provide all of our visitors with.
Is Online Gambling Legal in PA?
The short answer is yes, it's legal to gamble online in PA. For a better insight into this topic, we unfold more details below.
As of today, Pennsylvania is (together with New Jersey) the epicenter of online gambling in the United States. There are a couple of reasons why that is; one being the legal situation, PA is currently the only state where it is allowed to play sports betting, casino as well as lottery tickets online.
Furthermore, this state is currently the largest one in terms of population where online gambling has been legalized. With its 12.8 million inhabitants, PA generates millions of dollars in revenue annually and there's no sign of that slowing down.
---
Keep up to Date With the Latest Trends
The online gambling industry is expanding speedily as we speak. This sometimes makes it hard to keep up with the latest news and trends – there is simply too much information for one to take in. Fortunately, Casino Frog does the dirty work for you and makes sure you're not left out of any hot deals or interesting launches.
Thanks to our expertise we know what's worth paying attention to and what's simply not worthy of your time. Of course, your personal experience with a casino may vary, and our mission is to set you off on the right path. With that in mind, we've compiled a list of reputable gambling sites so you don't have to scan the entire web in the hunt for a suitable one.
---
Popular Gambling Products in Pennsylvania

As a player in Pennsylvania, you'll encounter many types of gambling products online. There's almost no limit to what you can play, whether it's sports betting, casino games, poker or lottery – it's all there. Here follows a brief introduction to the most popular products.
Sports Betting
Many people associate gambling with playing at casinos, but the fact is that sports betting is also widely popular in the States. Although there are some similarities between the two, they're far from the same thing. The most obvious separator is that you're able to improve your chances of winning in sports betting – by quite a lot actually. However, you need to remember one thing; no matter how well-prepared you believe you are or how many strategies you've studied – there's no way you can predict the outcome of sports events with 100% accuracy.
Casino Online
Online casinos are still fairly new in Pennsylvania but have already attracted a copious amount of excited players. Because the scene has exploded and been far more successful than anyone could have guessed, it's safe to say that casino sites are here to stay. As a result, residents of PA now have numerous sites to choose from with even more options to come. The second we're made aware of a new casino site arriving in the market we begin our testing to add it to our site, should it pass our quality check.
Online Poker
The poker boom may be long gone, but that doesn't mean there aren't various forms of poker available for your amusement. Online poker made its comeback in the Keystone State on November 6, 2019, as Pokerstars PA tested its product over the course of two days. The soft launch lived up to the expectations and Pokerstars is to this day still the only online operator present in the state. With that said, additional poker operators are in the talks of making Pokerstars company and we're thrilled to see what the future holds.
Lottery Online
Another fun and exhilarating way to gamble online in Pennsylvania is to play lottery games. The player base is predominantly made up of the state's seniors, although it's spread across all ages. Thanks to its simple and straightforward gameplay, anyone can participate and have a shot at winning – even the elderly.
---
How Casino Frog rates PA gambling sites
We thoroughly evaluate all PA gambling sites according to a set of guidelines crafted by our experts. This is to ensure we're consistent in the way we recommend gambling sites, as our ambition is to only list the very best of the best.
Security & License
The first thing we look for in a Pennsylvania online gambling website is whether or not it's properly licensed. What a license does is that it tells us that the casino operator is providing its services fully legally. Which of course, is what we want, as it gives players a layer of protection along with an assurance of fair gaming.
Banking Options
Another important factor in our rating process is examining the type of available banking options. Fast and secure deposits and withdrawals are essential for today's players. Because we no longer accept slower transaction times, we exclusively recommend gambling sites with a wide selection of fast payment methods.
Gambling Selection
A broad array of games and gambling products is the key to a pleasant and hopefully profitable experience. Once you've tried gambling online you know how important it is to mix things up with a variety of products, otherwise, you will get bored real quick. That is why we always have our testers carefully look over the selection of games.
Bonuses & Promotions
Lots of players are on the lookout for a big bonus offer, which is understandable as a bonus could potentially give your gambling experience a jump-start. Who wouldn't want that? Most sites do hand out lucrative offers, so what we do is verify to see if the terms and conditions check out. The last thing you want is to end up with a bonus that is difficult to cash out.
Customer Support
As much as we hate to admit it, there will probably come a time where you will have to turn to customer service for help. If this does happen, you would want the support agents to be efficient and preferably ready to assist you 24/7.
---
FAQ
Yes, licensed and regulated online gambling sites in Pennsylvania are perfectly safe.
Thanks to the legislation in PA, it is indeed legal to gamble online there.
Those who are located in Pennsylvania and have reached the age of at least 21 are allowed to play online.