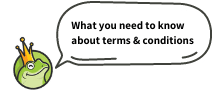 All reputable online casinos have a specific set of terms and conditions that players must adhere to. Terms and conditions are a very common feature of almost all websites. They're particularly important for websites where money is changing hands.
For casino sites, terms and conditions are crucial. They are there to protect both the company and its players and designed to ensure that players get a better experience on the site.
If you've signed up for a new casino site recently, you'll likely have been asked to agree to the terms and conditions. Usually, casinos will not allow a new player to register if they have not checked a box to confirm that they have read and agreed to these regulations. While it may be tempting to simply check the box without ever looking at the terms, it's recommended to give them a read. Have a quick look at the terms before agreeing to make sure that there's nothing out of the ordinary.
---
Common terms and conditions to look out for
The rules listed in casino terms can be quite extensive. Many online casinos have lengthy lists of regulations that players should read before they sign up. It's worth investing the time to make sure that you know what to expect before playing real money games at any new site.
Terms and conditions will usually be separated into distinct sections, making it easier to read and absorb the information. Look out for terms governing restrictions on use. This section details information on players who should not be using the site. It clarifies that players living in a country where gambling is illegal are not permitted to play. You'll also find information on legal age limits here and other regulations regarding restrictions on use.
Some of the information listed under terms and conditions is simply a disclaimer. It means that the casino is not responsible should players take certain actions.
For instance, you might find that casinos will deny responsibility for players who are underage visiting their site, or players living in prohibited countries. While casinos do take steps to avoid these occurrences, there is only so much that they can do to police players ignoring the rules. That's why disclaimers are essential for gambling sites.
Wagering: Casinos will often provide information on wagering requirements in their terms and conditions, and these should be read carefully. Wagering requirements are key to casino bonuses and other promotions, and worth knowing about.
Look out for wagering requirements of any bonuses that you plan to claim. Find out how much you'll need to gamble in order to be able to withdraw your funds. Take a look at our wagering requirements article for more information on how it all works.
Payment: Payment procedures are important for players and casinos alike, with many sites listing payment information in their terms. Look out for information regarding accepted banking methods, and make sure you're aware of the terms surrounding the withdrawal of winnings.
Transactions: You'll learn how to withdraw money and how long you can expect to wait for funds to clear. You'll also learn of any other regulations that the casino has put in place to protect players' money. Some casinos require additional security checks, so be aware that you may be asked to provide ID information and proof of address before you can play for real money.
---
Privacy policies at online casinos
Terms and conditions are often associated with casino privacy policies. On the registration page, you may well see a checkbox to confirm that you've read the terms along with another set of options relating to data protection. You'll be asked whether you'd like to receive marketing emails and whether you can be contacted by phone, regular mail or SMS. Make sure you read these carefully – only sign up for the communication channels that you want to use.
Some players opt out of all communication, which is completely fine. However, doing so means you'll likely miss out on special deals and promotions, as the casino will have no way of telling you about them. That's why we always recommend that you give the casino at least one way of contacting you, particularly if you plan on playing there regularly. Bear in mind that communication regarding your account or payment information will still come through, even if you opt out of marketing emails.
Terms and conditions might feel overwhelming at first glance, but a brief look through these regulations can really help to put your mind at rest when you sign up for a new casino. Browse the terms and familiarise yourself with the site's expectations. If you're happy with everything you see, check the box to confirm and you'll soon be registered and ready to play.