Any serious casino that wants to operate on the American market needs dedicated pages for terms and conditions on their site, that the players will have to adhere to. In fact, most sites, in general, have a set of terms and conditions, in various shapes and forms. Having one in place is especially important for sites with any real money transactions.
Why Terms and Conditions Exist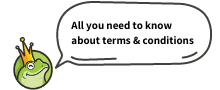 You won't encounter any legitimate casino site that comes without a set of terms and conditions, as they are required to protect the company as well as the players from abuse and other issues. It also helps create a safer environment, contributing to a better casino experience in general.
Whenever you sign up at a new gambling site, you'll be asked to agree and accept to the listed T&C. You won't be able to proceed with the account creation before you've ticked the box, confirming that the terms and conditions have been read and that you agree. We recommend giving them a glance at least to see that everything seems to be in order before simply accepting.
---
What Terms to Look for
As with any legal matters, you'll encounter quite a lengthy page when you want to read up on the terms for a casino. This is true for all online casinos in the States and other parts of the world as well. There are plenty of rules and regulations to keep track of and it's worth looking into before spending any real money.
To make the terms and conditions less overwhelming, online casinos have separated them into clear sections. You might want to look for sections mentioning restrictions, detailing who should and should not use the site. This could be everything from country restriction to an age restriction. If you're over 21 and online gambling is legal in your state, you should be fine in most cases.
In some cases, the casinos will state these restrictions as a disclaimer, rather than an enforced rule. This means that the operator simply does not take responsibility should a player not comply with the set T&C.
Example:
A disclaimer might imply that the casino will not be responsible for the player's actions. Should a player visiting and playing at the casino turn out to be underage or live in a state where gambling is illegal, the casino itself will not be held accountable for those actions. The companies will of course take necessary steps to prevent such abuse, but this is an extra layer of protection. That's the reason these disclaimers exist.
Another set of terms to look out for are the rollover requirements. These tell you how many times you have to wager your bonus funds before you can withdraw them as real money, straight into your bank account. We suggest reading our rollover requirements guide for a more in-depth look.
Lastly, you'll want to check the terms and conditions for any payment procedures on the site. This is information related to payments in general, accepted banking methods, and rules concerning cashout. In this section, you'll learn how long you might have to wait before your funds are transferred into your bank account, and how the casino protects your money, among other things.
Online Casino Privacy Policy
You'll find that regular terms and conditions are heavily connected to the privacy policy at an online casino. When you first register, the casino makes sure that you accept the T&C along with options regarding privacy data protection.
Usually, you'll be met with boxes to tick for whether you want to receive marketing via email, phone, and text messages. You may choose the communication channels you prefer, and disregard the others. It's up to you.
You could of course opt out of all of it. Doing so, however, means that you might miss out on certain deals and bonus campaigns since the casino has no way of communicating them to you. Casino Frog recommends that you choose at least one of the contact options if you plan on staying with the casino for a longer period. Even if you opt out of all marketing, they will still be able to reach you for any important matters, such as details concerning your account or payment.
In summary, we recommend at least having a brief look through the terms and conditions of any new gambling site. You'll feel safer knowing what the casino expects from you and all of its players. Any basic regulations are worth familiarizing yourself with. Once you're ready to play, accept the terms by checking the box to finish your account registration.